Kayaks, Canoes & Paddle Boards for Rent and Sale, Accessories, and Repairs
Sit-on-top Kayaks, Canoes, Paddleboards, & More

Kayak Rentals
in the Kerrville, Texas Area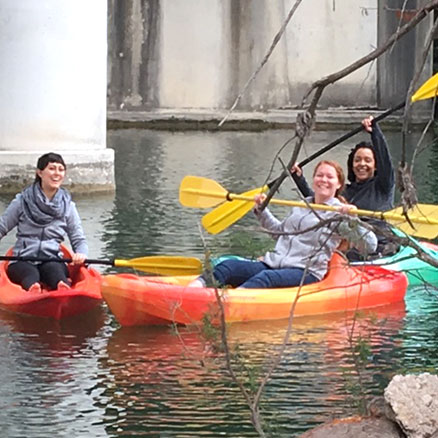 Kerrville Kayak and Canoe offers hourly on-site rentals at area parks beginning on the weekends late Spring and continuing 7 days a week through the summer months, and then back to weekends only through September. Single and two-person kayaks, canoes, paddleboards, and their equipment are already at the river for your use. No reservations, its first come, first serve.
We rent by the hour, 2-hour rates, and half-day rates available. These locations are at area parks that are on dammed sections of the river that allow paddlers to go up and down the river so you can return to where you launched from. Great for folks with limited time or small children.
Locations:
  Louise Hays Park at 202 Thompson Dr offers a 3 mile round trip which has a very river like feel. Great for fishing.
Kerrville Schreiner Park at 2385 Bandera Hwy is on a 150 acre section of river with a 4 mile round trip and tons of area to paddle and even a small creek to explore.
Hours Of Operation:
Monday - Friday            12 noon till 7:30pm
Saturday and Sunday    10am till 7:30pm
*Weather permitting and holidays that fall on a weekday and treated as weekends.
**If at the time of your rental you do not receive a receipt, please immediately call the shop.
***these locations are CASH ONLY
Single-person kayaks and paddleboards
$10 per hour
$20 2 hours
$25 half-day
Two-person kayaks and canoes
$15 per hour
$30 2 hours
$35 half-day
Pedal Boats at Louise Hays park ONLY                            $20 per hour  only
Depending on the time of year, river tubes (for just chilling) will be available to rent.
We also rent Beach Cruiser style bicycles from our shop location. Easy access to the Kerrville River trail and just $10 per hour.
Kerrville Kayak and Canoe rents single and two-person sit-on-top kayaks, canoes, and paddleboards at half-day, full-day, and even multi-day rates. Pick them up from our shop location and go paddle wherever you like or take them back to that river house you rented for the weekend. On the Water rental info is in the blue section.
We also offer half-day river trips using single-person kayaks with a shuttle. Reservations are recommended, so please call the shop. Please keep in mind river levels will affect availability. Have your own kayaks and just need a shuttle? We do that too!! Call the shop to schedule a time.
Hours Of Operation:
Sunday - Thursday  10am till 5pm
Friday and Saturday  10am till 6pm
Single-person kayaks and paddleboards - $25 half-day - $40 full day - $100 3 day rate.
Two-person Kayaks and canoe - $35 half-day - $50 full day - $135 3 day rate
Beach Cruiser Style bikes - $10 per hour, Park at the shop and access the River Trail at G Street.

We also sell kayaks, canoes, and paddleboards and have partnered with some of the top brands in the industry like Wilderness Systems, Perception Kayaks, Jackson Kayaks, Mad River Canoes, and Board Works Paddle Board Co.
We are stocking dealers and have many different models and colors in stock. Whether you are looking for a paddling kayak or your next fishing kayak with a pedal drive system or maybe a new paddleboard, KK&C can help get you on the water in the right watercraft!!
We also stock accessories from paddles and lifejackets to rod holders and paddle leashes. Kayak crates and kayak carts from top companies as well.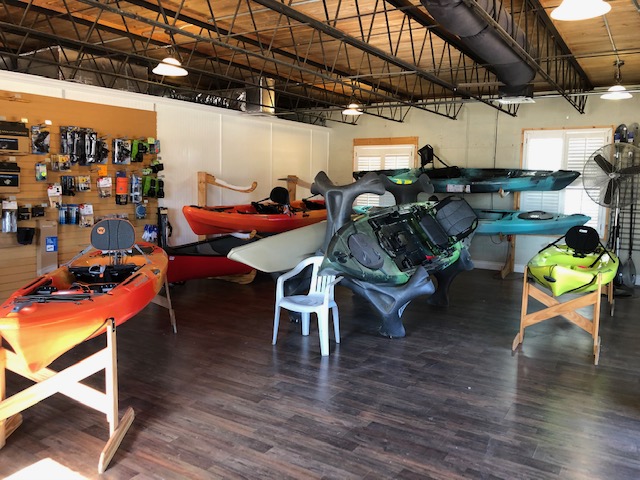 We carry a supply of locally tied flies for our river. If you are in town and curious about what or where they are biting, stop by the shop.
Did you put a crack in your yak? We do kayak repair and can get you back on the water! Please call to make an appointment to drop off your boat.
From time to time, KK&C has special events we do with local partners. One of our newest partnerships is with the Yoga Space and offering paddleboard yoga classes! Get the shop a call for a calendar of classes or more information.

Seasonal Schedule of Operations
Shop location is open 7 days a week, and at least one of them on the water locations is open on the weekends
Shop Location and both on the water locations are open 7 days a week.
Shop location is open Tuesday – Saturday
We try and have one On the Water location open on the weekends only through Columbus Day weekend.
The shop location is open Tuesday – Saturday
On the water, locations are closed
Christmas Eve – Valentines Day
Everything closed for winter break